| | |
| --- | --- |
| New post on THE CABINET CARD GALLERY | |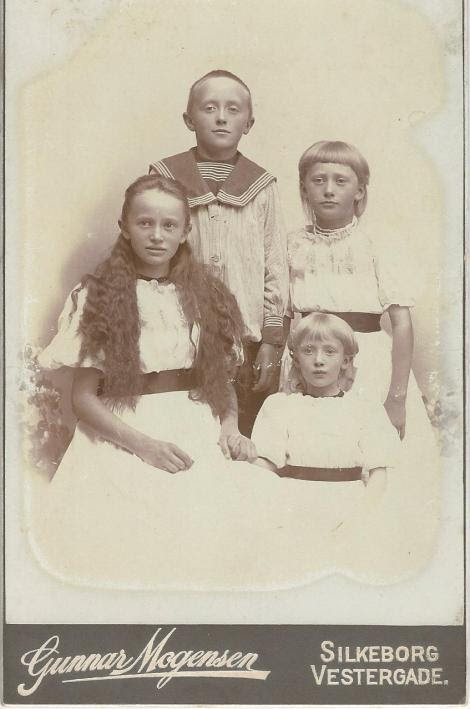 This cabinet card features what appears to be four siblings gathered together for their portrait at the studio of Gunnar Mogensen. The boy in the photograph is wearing a sailor style suit and his sisters are all dressed in white with dark belts. The older sister has very long hair, while in contrast, the two younger girls are wearing short hairstyles. Mogensen's studio was located in Silkeborg, Denmark. To view other Danish photographs, click on the category "Denmark".
| | |
| --- | --- |
| New post on THE CABINET CARD GALLERY | |
Charles Henry Parkhurst (1842-1933) is the subject of these Cabinet Card photographs which are published by Newsboy. Photographer Napoleon Sarony has the 1892 copyright for the top photograph. The second photograph is marked "375" and is part of Newsboy's tobacco premium series. Parkhurst was a clergyman and social reformer. He was a presbyterian minister and from 1874 until 1880, he was a pastor in Lenox, Massachusetts. He then became the pastor for Madison Square Presbyterian Church in New York City (1880-1919). During the year of this photograph, Parkhurst began giving tough sermons attacking the political corruption in the New York City government. This led to the exposure of the corruption in Tammany Hall and subsequent social and political reform. He had a special concern about the problem of prostitution in New York City's tenderloin section. He hired private detectives to investigate the houses of ill repute and their police protection. Concerning the police, he said "while we fight iniquity they shield or patronize it; while we try to convert criminals, they manufacture them". He took his concerns and investigative results to court on these matters. He was President of the New York Society for the Prevention of Crime and published numerous magazine articles and books. Parkhurst died tragically; while sleep walking he fell off the second story porch of his home.
bmarshphd
| July 19, 2014 at 11:37 am | Tags:
"cabinet card"
,
Clergyman
,
Corruption
,
Crime
,
House of ill Repute
,
Lenox
,
New York City
,
Newsboy
,
Parkhurst
,
Pastor
,
Police
,
Politician
,
Presbyterian
,
Prostitution
,
Sarony
,
Sleep Walking
,
Social Reformer
,
Tammany Hall
,
Tenderloin
| Categories:
Beards (Only the Best)
,
clergy
,
Occupational
,
Photographer: Newsboy
,
Photographer: Sarony
,
Political
| URL:
http://wp.me/pnHKU-pj
| | |
| --- | --- |
| New post on THE CABINET CARD GALLERY | |
This photograph features a girl who appears to be in her teenage years. She is wearing a bead necklace and a shamrock brooch. Note the girls long braid behind her collar. This cabinet card has been trimmed by a previous owner who was likely trying to fit it into a frame.
| | |
| --- | --- |
| New post on THE CABINET CARD GALLERY | |
An elderly man sits legs crossed on a wicker chair as he poses for his portrait at an unidentified photographic studio. Note his pocket watch and silvery beard. The reverse of the photograph identifies the subject as "Uncle Andy Norton".
| | |
| --- | --- |
| New post on THE CABINET CARD GALLERY | |
The love between a mother and her daughter is quite evident in this cabinet card portrait by the Bauer studio in Leavenworth, Kansas. Note the intimate quality of this image. The little girl displays a loving look and has her right arm draped over her mother's right shoulder and has her left hand touching her mothers' upper arm. The reverse of the cabinet card has printing advertising the address of P. H. Bauer's studio. The building was located on the northwest corner of Shawnee and Fifth Streets. P. H Bauer's father, Sebastian Bauer was a pioneer Kansas photographer. He was active in Leavenworth between 1865 and 1887. His son, Pius Henry Bauer (1861-?) started sharing his fathers studio in 1878 and they soon joined as partners. He opened his own gallery in 1887 which he ran past 1900. In 1886 and 1887, a Mary Bauer worked in the gallery. She was reported by one source to be Pius's sister and by another source to be Pius's wife.
| | |
| --- | --- |
| New post on THE CABINET CARD GALLERY | |
A young well dressed couple pose for their portrait at the Allen Nield studio in England. The woman in this photograph appears to be only semi conscious but she is probably just at a loss as to how to pose for the camera. Nied had four studios at the time that this photograph was taken. There were two galleries in Leeds, and one each in Manchester and Stockport.
| | |
| --- | --- |
| New post on THE CABINET CARD GALLERY | |
A little girl stands at a gate in this cabinet card portrait by Wendover & Son. The child's hair is styled with curls and she is wearing a necklace with a locket. To learn more about this photographer and to view more of his photographs, click on the category "Photographer: Wendover".