January 21, 2013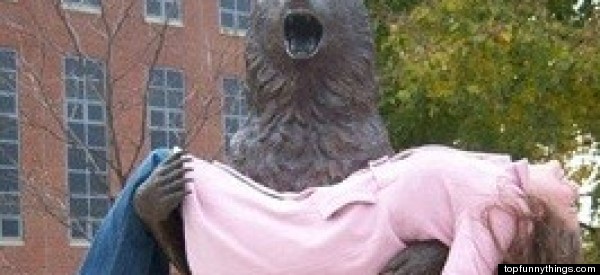 A trip to a museum offers an enlightening cultural experience like no other. It takes you back in time, allows you to learn exciting new things and see world-renowned works of art. It also gives you the opportunity to take the kinds of photos that make the museum staff hate you and question their careers.
Here are several folks who clearly made the brave choice. 
Continue reading...
| | |
| --- | --- |
| | |
MINDY TUCKER
Stolen Moment of the Week: Dave Hill at the People's Improv Theater
 Continue reading...

SABRINA JALEES
My Family Broke Up With Me
Over the holidays I gifted my Muslim relatives with the truth: I'm gay, I'm married, I'm happy. It landed in 28 inboxes three weeks ago and has received a grand total of zero replies. I can only assume that they're too busy celebrating. Continue reading...

JOHN COOKER
Gun Ownership Intelligence Test
Of course there should be an intelligence test given to anyone who is going to own something as dangerous as a gun. We obviously don't want them falling into the hands of rabid or psychotic people -- look what happened when George W. had control of the military. Continue reading...

JEFF SORENSEN
A Review of the Academy Awards Best Picture Films
I could write numerous articles on how Tarantino and DiCaprio got the shaft, how Christopher Nolan got cheated, and how Looper didn't even get a best original screenplay nomination, but I'll stick to just the Best Picture category to tear apart. Continue reading...

DOUG MOLITOR
Doug's Dozen: 12 Reasons You Should Not Hook Up With Manti Te'o's Ex-Girlfriend
Ordinarily, a football star's girlfriend could be counted on to be pretty amazing. The word is that this one is unbelievable. Continue reading...


Received this from a friend? Sign up for alerts from The Huffington Post here
Unsubscribe here.